July 2020
BASF Fungicides Gives You The Right Tools For The Job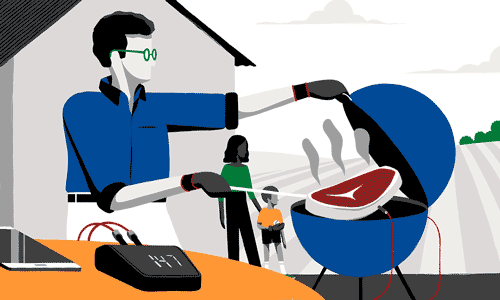 Thanks to all your hard work and for being a part of the Market Builder 2020 program. A strong year for the fungicide industry often makes all the difference between you and your company being in the red or making a profit!
Market Builder was designed for leaders, and BASF is here to help you stay in front of your competition with Retail first. By now the season is likely well underway, you have listened to your farmer's concerns and shown them how fungicides give them control, no matter what the season brings. Although it's not quite wrapped up yet, we know you are thinking about it, and so are we. Having a well-earned break and enjoying some time with your family. And what better way to relax than being around a grill or BBQ to prepare your favorite meal. BASF would like to help, by offering to our 2020 Market Builder members a brand-new Top of the line Weber Connect Smart Grilling Hub.
To receive your Weber Connect Smart Grilling Hub, simply answer the following question in the box provided below:
Terms and Conditions
We thank you for your support of BASF's 2020 Market Builder Program and look forward to our continued relationship with you. The first 1,000 qualified entrants who provide submissions timestamped between 12:00 PM ET July 21st, 2020 and 11:59 PM ET September 21st, 2020 may receive a BASF BBQ Gift Pack – which includes oven gloves, a kitchen towel, and a Weber® Connect grill thermometer. Limit one gift pack per household. While supplies last. Please allow at least 8 weeks for delivery/receipt.
NO PURCHASE OR PAYMENT OF ANY KIND NECESSARY TO ENTER OR RECEIVE THE GIFT. A PURCHASE WILL NOT INCREASE YOUR CHANCES OF RECEIVING THE GIFT. VOID WHERE PROHIBITED.
Any entrant who is found not to be eligible for this giveaway in BASF's sole discretion will be disregarded and will not be eligible. Ineligible individuals will not receive notification or any correspondence from BASF.
By participating, you agree that BASF and its agents, affiliates, subsidiaries, representatives and service providers may use the personal information submitted with entry for purposes of gift fulfillment and marketing of their products or services, subject to the BASFs Privacy Policy available at https://www.basf.com/us/en/legal/data-protection.html. BASF will not sell personal information.
Weber-Stephen Products LLC is not a sponsor of this giveaway, and the giveaway has not been authorized or otherwise approved by Weber-Stephen Products LLC.