July 2020
KNOW YOUR CUSTOMER
Is Your Farmer Listening to You? – Part 3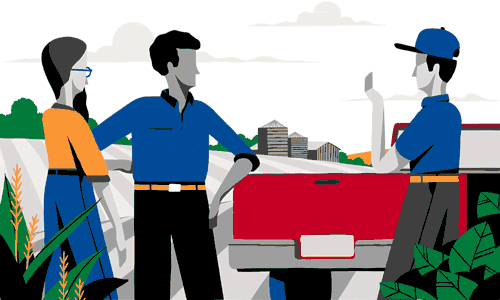 Talking to Your Farmers Is Always in Season. We'll Tell You Who's Most Likely to Listen.
This time of year can be challenging, but it can also be very rewarding. Because we're in-season and crops are emerging, there's a wealth of opportunity to work with farmers to help increase their productivity. One of the fastest ways farmers can get a quick payback and also provide you with success is to agree to use fungicide—and not just any fungicide but the best products that provide the best results. That's right; all fungicides are not the same! Let us give you a head start with some key insights.
In this edition, we'll steer you towards the audience who's the most open to hearing your in-season fungicide message.
Tech Leaders
Because Tech Leaders are reactive purchasers, an ideal time to make a sale with this group often occurs in-season.
Set up a time to share interactive trial maps or in-season diagnostics with real-time data.
Use the current situation to arrange a virtual conversation, where you can build your relationship by appealing to their tech-savvy side.
Emphasize how healthy crops are looking; now is the time for them to invest in their already-profitable investment!
Visualizers
For Visualizers, seeing is always believing. Also being reactive buyers, this segment can literally make a purchase decision on sight.
Take advantage of a good weather day to get Visualizers out into a test plot, where they can see, firsthand, the benefits of a proven fungicide.
Knowing they scout their crops daily, make a trip to their field, where you can catch them at the prime time to discuss plant health.
Make sure to give them a call and inquire about any stress events on their farm.
Asset Optimizers
An in-season discussion with Asset Optimizers opens the door for them to see the long-term benefits of maximizing on their crop protection investment.
Hone in on their ability to make the most of their investments by sharing current field data.
Relate to their business sense by bringing on other professional resources, such as an agronomist, to discuss the long-term financial benefits of a proven fungicide.
Appeal to their instincts by literally showing them how a healthy field equals a healthy and profitable return.
Now is the time to use your talents to create in-season sales opportunities. Let us support your efforts with information and inspiration. Our job is to make you a success, so don't hesitate to reach out with your own questions. We also want to hear about your wins!