May 2021
SALES ENABLEMENT
Don't Wait Until Midseason to Make Corn Fungicide Recommendations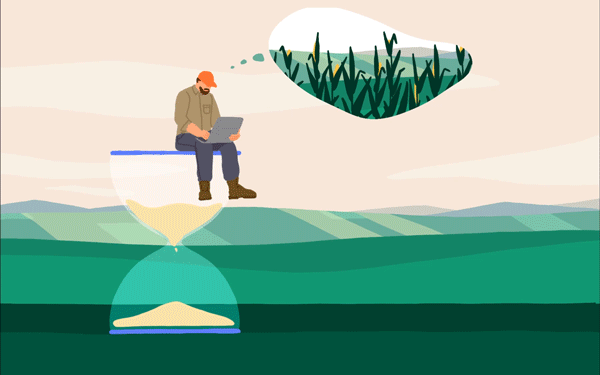 As trusted advisors for farmers, it's easy to think about the big three: fertilizer, seed, and pre- and post-emergent herbicides. Fungicides aren't always included in a grower's initial crop plan.
When things like northern corn leaf blight, tar spot or southern rust rear their ugly heads, a fungicide is recommended. Rather than being reactive to the situation, consider being proactive. Safeguarding hybrids from disease and contributing to overall better plant health with a fungicide application earns bushels at harvest. Start having corn fungicide conversations now.
Time is money
In a few weeks, fields are going to hit the traditional application window near or within the same time frame. Adding 14 days to applicators' schedules may not seem like a lot of time, but in reality, it can be the difference between making a successful application or missing out completely for the season.
At BASF, we've expanded the application window with Veltyma™ fungicide. Equipped with active ingredient Revysol®, farmers, retailers, and custom applicators have more time to cover acres while dodging windouts, rainy days, and whatever curveballs are thrown their way.
As you may expect, the best yield results are still seen in the traditional VT to R2 application window. We've widened the front end of application, so applications made to 5-foot-tall corn, which is typically at V10 to V12, still consistently outperform the competition applied at the traditional window.
If your customer missed the traditional application window, don't shortchange the corn crop on curative control only. Invest in the best corn fungicide or avoid application altogether. Veltyma applications applied at R2 to R3 exceed both expectations and the competition, taking full advantage of a wider application window.
Veltyma is the only product that can deliver this wider window. It simplifies application by giving farmers the flexibility to apply by ground or air, beating the rush for application equipment and spraying acres that would otherwise go untreated.
Talking With Your Farmers
As you begin to have conversations with farmers about Veltyma fungicide applications, below are some key points you can share.
Corn treated with Veltyma fungicide saw a yield increase of 14.6 bushels over the untreated check.
Its fast uptake and strong curative activity stop yield-limiting diseases such as tar spot, gray leaf spot, and northern corn leaf blight from damaging plants and yield.
Veltyma offers long-lasting control of both disease and environmental stress.
Download this Veltyma fungicide PDF for more information. To see results from farmers' fields, visit RevXField.com.