December 2021
TRUSTED ADVISOR
Lay of the Land for 2022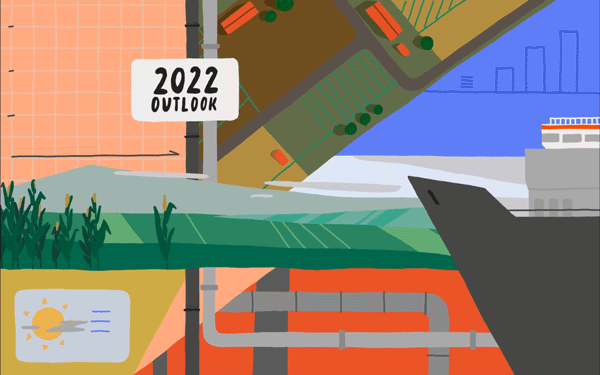 https://main--basf-retailfirst--hlxsites.hlx.page/media_15082766bf5162d5e4115cb416259d8acc136999f.mp4
As we approach 2022, future commodity prices and trade are on top of growers' minds. We would all like to look into a crystal ball to know what 2022 growing season holds, but unfortunately, we can't. We can reflect on the past and look at our current scenarios to predict what the future holds to help growers prepare for the upcoming season.
Input Cost Considerations
This year growers are expecting increased input costs for 2022. Supply issues began in 2021 creating farm input shortages and will most likely continue into 2022. Agriculture suppliers are facing an increase in material and freight costs – along with delays – which is impacting not only availability but also growers' price. This higher cost will start to eat into the profit margins.
Market Outlook
The USDA, Outlook for U.S. Agricultural Trade reported for exports of 2022 fiscal year (FY) is projected to be $177.5 billion, which is 4.0 billion higher than the previous year. The higher forecast is primarily driven by predictions of higher export potential of soybeans, cotton, and horticultural products.
The USDA also noted this year both corn and soybeans were profitable, with corn being even more profitable compared to soybeans. Purdue University agronomists have noted going into 2022 there is no advantage currently on planting corn over soybeans.
Land Prices
Land prices are another input cost farmers have been keeping a close eye on. According to the USDA's National Agricultural Statistics Service, last year the national average was $141 per acre to rent cropland. This year's cash rent showed a slight increase of $2 more compared to the 2020 average. Several agronomists noted cash rents typically follow agriculture returns on investments, just slightly lagged timing of price increases. Considering the high profits growers had in 2021, growers can expect an increase in cash rent in 2022.
Understanding the Situation
As farmers begin to plan for 2022, knowing the outlook and predictions for the coming year can help you better understand the factors that are weighing on growers. Use this information to work as a partner with your customers and provide guidance to help make the 2022 season profitable.