June 2020
IN THE FIELD
Stay one step ahead of your customers' needs with BASF AND Veltyma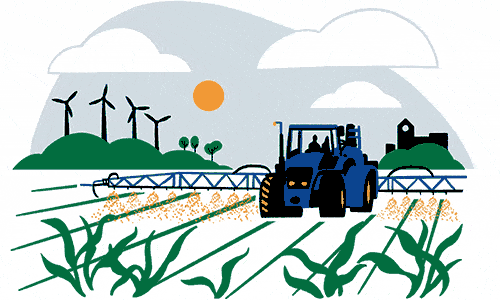 Just when you and your customer have laid out the perfect plan for fungicide application, Mother Nature throws a wrench in the works – wind, rain or both. Or family activities pop up – a ball game, family reunion or the long-anticipated (or partly dreaded!) family vacation – making farmers decide not to spray and fungicide application plans get put on hold.
You have all experienced this. Except the hold is not just for a couple days, it's for a season. This has left thousands of dollars in the field for Mother Nature to steal from you and your customers during the traditionally short application window of the fungicides of the past that left you frustrated. What if there was a solution, offering a couple more weeks to help you finish your job and help farmers finish their crops?
With an expanded application window two weeks longer than the competition, Veltyma™ fungicide products give farmers the flexibility to stay one step ahead of the weather and better protect their fields' and their farms' health.
Adding 14 days to applicators' schedules may not seem like a lot of time, but in reality, it can be the difference between making a successful application or missing out completely for the season. Revysol® gives farmers, retailers and custom applicators more time to cover more acres while dodging wind-outs, rainy days and summer activities.
For many, the 2020 growing season has provided us with one of the most compressed planting seasons in recent history. This means in a few short weeks all those fields are going to hit the traditional application window – AT THE SAME TIME. Are you prepared? Fortunately, BASF's Veltyma offers a solution by providing a wide application window.
For the past 10 years BASF has been working to bring farmers the product with a truly effective expanded application window. That product is Veltyma, the first fungicide designed specifically for this purpose. Now you and your customers have the flexibility to utilize existing equipment, no matter the application method – ground or air. When you use Veltyma, you'll receive the results you'd only expect from a BASF product.
Open your window to success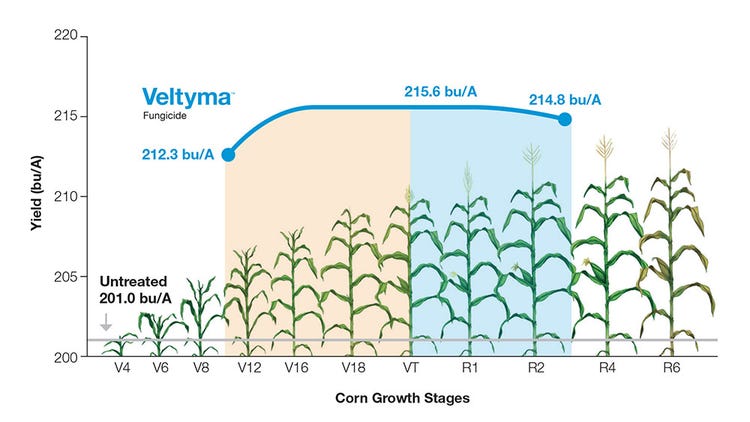 As you would expect, the best yield results are still seen in the traditional VT to R2 application window. We've widened the front end of application so that applications made to five-foot-tall corn, which is typically at V10 to V12, still consistently outperform the competition applied at the traditional window.
If your customer missed the traditional application window, don't shortchange the corn crop on curative control only. Invest in the best corn fungicide or avoid application altogether. Veltyma applications applied at R2 to R3 exceed both expectations and the competition, taking full advantage of a wider application window.
Veltyma is the only product that can deliver this wider window. It simplifies application for farmers by giving them the flexibility to apply by ground or air, beating the rush for application equipment and spraying acres that would otherwise go untreated.
Stay one step ahead with BASF and Veltyma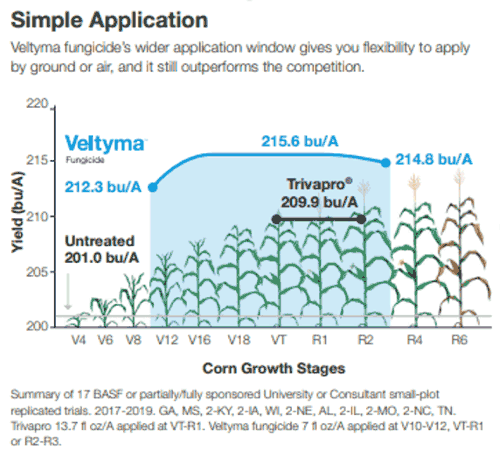 Veltyma fungicide delivers Swift, Simple, and Secure fungicide application decisions for your corn crop. Looking to increase your yield and protect against disease? Veltyma fungicide has you covered, offering up to a 14.6-bushel yield increase over the untreated check. Its fast uptake and strong curative activity stop yield-limiting diseases, like tar spot, gray leaf spot and Northern corn leaf blight, from damaging plants and yield. Its long-lasting control of both disease and environmental stress is easy to see in the field and gives your customers more confidence in their fungicide decisions. Learn more about Veltyma fungicide.