March 2021
SALES ENABLEMENT
Tools of The Trade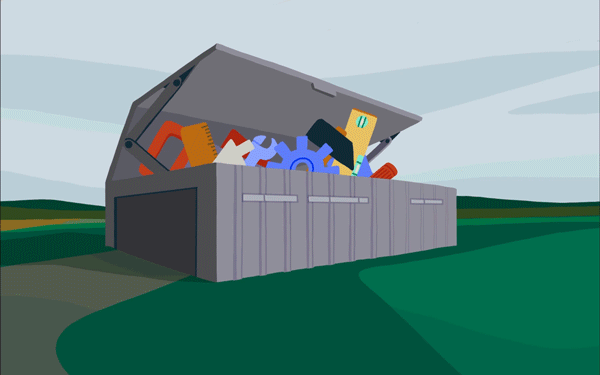 Leveraging all the tools in your toolbox at the correct time will help you connect with customers and close more fungicide sales.
While every farmer understands the value of planned herbicide applications and need-based insecticide applications, it may be difficult to see the same value in fungicides. Some fungicide brands make big promises without the Plant Health benefits BASF provides. Therefore, it's important to emphasize the robust disease protection, visual Plant Health difference and maximized yield results provided by BASF fungicides.
Scott Gillespie, a customer in Minnesota who participated in RevX Fields, described this challenge.
"Our inputs we have some control over, and we have to be very cautious where we spend that money," he said. "Generally, if the farmer can see something that kills a weed, for example, they can physically see that [value]. Fungicides are harder to see the benefit of. The only time you see it is when you have a side by side, and it's at the end of the year at harvest."
Show your customers the value of fungicides and ratchet up your sales strategy with the help of these tools:
Grow Smart Advantage
Use this online tool to input custom information, adjust value of crop protection elements, and show the estimated results of BASF products versus competitors' products in performance and terms of dollars versus rebates. With data derived from third-party sources, Grow Smart Advantage provides a transparent, trustworthy tool to help frame the conversation with farmers.
Grow Smart Live
This app is available on your smartphone and provides the latest agronomic updates, including customer results, field trials, and product updates. Even better, it is also available for interested customers so they can have access to the information in their own pocket. Ask your BASF representative for access to set up an account and stay up to date on the latest information.
RevX Fields
An interactive map of on-farm fungicide trials, RevX Fields allows growers to see transparent, unbiased results from local fields. Weather conditions, disease pressure, soil type, and other variables can influence the efficacy of fungicides: These trials allow farmers to view nearby fields that more closely mirror their own field conditions. To date, over 2,000 growers have participated. Currently the site features Revytek™ fungicide in soybeans and Veltyma™ fungicide in corn but is being updated and expanded this year to include a wider range of crops and fungicides.
Retail First Training & Pathfinder Initiative
For industry-leading tips to grow sales relationships and strategies to improve farmers' bottom lines, visit the Retail First website and Pathfinder Initiative. Here you will have access to previous issues and interactive training programs. Click on the training tab in the Retail First site navigation to start the training journey and expand your fungicide business with Revysol. Check with your BASF representative to find the best place to start.
For additional advice and recommendations using these tools, connect with your BASF representative.