February 2021
TRUSTED ADVISOR
What the Pandemic Has Taught Us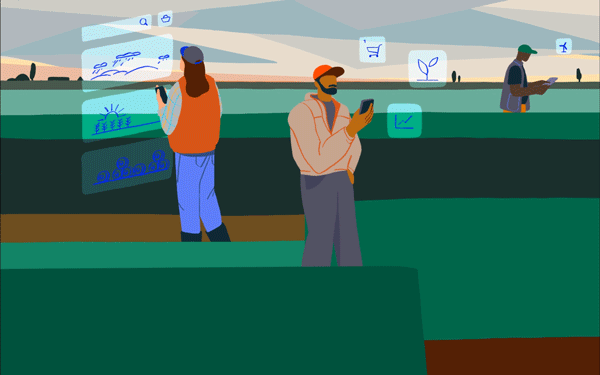 Change is constant in agriculture. Already accustomed to changes in technology, products, regulations, and seasonal weather, farmers and retailers alike are well prepared to adapt. It's part of the business.
While we hope to soon stop using the word "unprecedented," the pandemic brought some learnings that are here to stay.
Relationships are key to success
Strong relationships are the foundation of success. That has always been true in ag retail, but they have become even more important. In a volatile and unpredictable period, farmers need someone to trust and rely on to provide quality products and sound agronomic advice.
The pandemic has led to more one-on-one meetings and new methods of outreach. Exceptional customer service, including good communication and anticipating client needs, creates a positive experience and brings customers back for more. Keeping this personal touch and high-quality service is necessary to build and maintain strong relationships and thrive in challenging times.
Online content and digital media consumption are here to stay
Digital is now a permanent part of doing business. This shift isn't new to agriculture, especially as farmers become increasingly tech-savvy and a younger generation returns to the farm. But post-pandemic, it's gained traction and taken a larger role.
How can you reach customers in a digital world? Consider using social media or your website, or being readily available over text to answer quick questions. Utilize online resources, such as RevXFields.com, to provide customers with needed information in real time.
Technology adoption accelerates every day
Approximately 25 percent of rural Americans did not have access to broadband as of 2018, according to the Federal Communications Commission (FCC). Rural access to broadband and wireless coverage has lagged significantly behind other parts of the country, an issue that has recently been a focus of politicians and industry leaders. With virtual school and working remote a necessity in many parts of the country, there has been a renewed push to increase rural infrastructure. Necessity will continue to drive this forward.
Increased investment in rural infrastructure will open doors to new opportunities and vastly improve existing resources. For instance, many farmers already use digital farming tools, such as xarvio™ solutions, ReliableActivation.com and Grow Smart Live. With improved broadband access, farmers and agronomists will be able to access data faster and use tools like predictive modeling.
Many things have changed in the past year. One thing is certain — pandemic or not, agriculture remains an essential business.